Aviation Road 10/2

Again, a phone call confirmed that a cleanup would be happening for the confirmed date and location, beginning at 10 am. Aviation Road refers to a section of beach at Floyd Bennett Field, the former Brooklyn airfield, which like Great Kills Beach in Staten Island is also part of the Parks Department Gateway National Recreation Area. After a quick bike ride out towards Jamaica Bay, past the park entrance and down Aviation Road I arrived at the beach. There is a sign before the beach indicating that access beyond this point is for residents (there are two small houses) and people with valid fishing permits only, which means that the beach area at the end of Aviation Road is not occupied by sunbathers or families, but fisherman.

As it is already 11:00, I assume the cleanup is well underway. I ask a woman sitting near the entrance to the beach if she knows where exactly the cleanup is happening. She not only does not know of any cleanup, but has been there for the past 2 hours and not seen anyone taking part in any such efforts. This is pretty much the only entrance to the beach, which is much smaller than Great Kills in Staten Island, so there is not a lot of snooping around I can do. I call the number from before, where just a few days prior a very chipper woman had assured me that the cleanup was happening at the end of Aviation Road, beginning at 10am. A different ranger answered the phone this time, and he said he was unsure what was happening, that no one showed up to lead it, and he had a total lack of knowledge to assist, There is nothing I can tell you; I cannot help. Much like the ranger we had encountered the week before in Staten Island, there was a great deal of frustration on his behalf.

With no information and resolution obtained through the phone call, I rode back to the park entrance and knocked on the door of the ranger station there. Answering the door was the same gentleman from the phone. Again he exclaimed that he did not know anything, nor could he help me. He acknowledged the inconvenience in having volunteers come out to the edge of Brooklyn to help with a clean-up only to be stood up by the organizers. So, as with last week, I asked if there were any extra garbage bags I could have to proceed with the cleanup on my own. Yet even this simple request was denied. I managed to wrangle one from a nearby bathroom and headed back to the beach with little confidence in NYCs coastal cleanup efforts.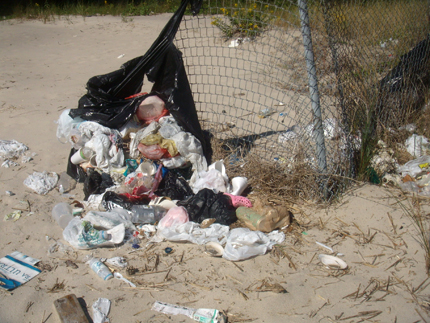 To get the most out of my single garbage bag I would have to improvise a little by using it multiple times and searching for other makeshift containers. It is interesting how people take curious notice to a lone individual collecting trash for no obvious purpose. If you are with a larger group doing community service, or collecting bottles and cans for deposits somehow your purpose seems to put people at ease. But a lone 26 year old on a foreign beach, where is the reason? I felt this attitude heightened at Aviation Road, simply because it is such an insular community (fishing permits only) and October is not exactly beach season. Nevertheless, I pushed on collecting in my lone bag and returning to the main entrance of the beach to empty contents within the metal garbage cans. As might be expected, a large amount of the litter here was from fisherman (plastic bags filled with leftover baiting supplies, styrofoam coolers, and inexcusably large amounts of fishing line). Unlike previous coastal cleanup sites, most of this garbage had obviously not washed ashore, but was locally produced litter. The fact that I was basically cleaning up after the locals, and dragging it all in plain sight to the entrance, only increased my feelings of unwelcomeness. At one point I carried a large piece of thick foam off the beach and past a man who indicated he had at times used it for a bench. I probably would have left it had it not been a large piece of toxic material within a few meters of being carried out to sea.
Index
Intro <1
South Brother Island <2
Great Kills Beach <3
Aviation Road <4
Lemon Creek Park <5
Others <6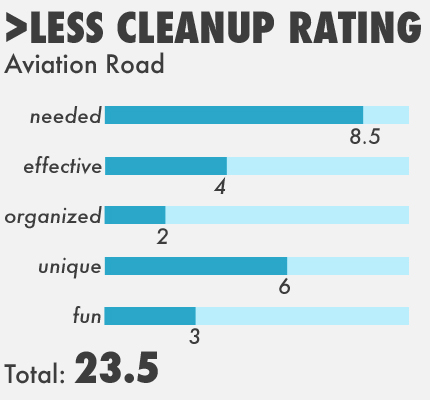 I cleaned as much as I could, leaving behind still large amounts of waste that I hoped some of the fisherman might take some responsibility for in disposing, after all it is basically their beach. One woman walking down the shore (I did not happen to see any active fisherwomen here) did approach me at one point to express gratitude for my efforts. I also had a fun encounter with a man who had caught two small sharks this day, apparently good cooking for a Caribbean friend of his.

I photographed my collectings and headed out to scour a few of my favorite synthetic sites in the surrounding area.